This is facebook a few years ago.
I think i have never used a social network as much as i have used facebook. Started off with just social networking pretty much lead to marketing and brand development.
When facebook began they made changes very often, i remember there was a time when every six months had a new design and layout. After a while spam began to overwhelm me and i spent more time sorting things out than i did sending stuff out.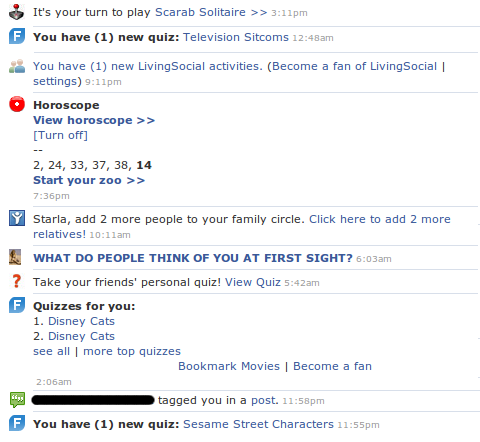 Facebook has now been around quite a while and i have started to think it has been due to the lack of proper competition. No we have google+ give me a change to breathe and i will definitely tell you why. Id rather not get to "oggily" Google rite now because they are as much of a power as Facebook just a little bigger i guess. But Facebook is also required in this case, so as to have a universal stabilization of power. We don't want one company to be all high and mighty with no one able to compete. So could never be biased as i suffer from the DILEMMA. Facebook now s more like Superman (Powerful and strong and with xray vision where it come toprivacy) and Google+ i more like Nacho Libre ( Big and promising)
Anyway today i decided to run through my Facebook feed (like usual) two interesting Facebook statuses and one engagement. The i stopped for a second because i realized that i just went through the entire list of hundreds of things and the only things that i really wanted to know were two status messages and the engagement of a friend. Now the rest was all JUNK. Not junk that is spam but junk created by Facebook. Its almost that Facebook thinks its important for me to know. When did an algorithm started to decided what i needed to know. Ever wonder why they never had one of these?
A few things i like about Google+
1. They have good spam filters in place. 2. No advertisements that would pop up on the side based on my status.. At least not yet! 3. I am not forced to know who has just befriended whom! 4. No requests to buy cows 5. I just decided to scroll down my news feed today on facebook and realized 85% was not only junk but stuff that was forced onto me. Stuff that i knew after reading it that i should not really know or did not want to in the first place
Images used in the post have been taken from here:
1. http://memeshirts.wordans.us/shop-t-shirt-design-tags/facebook-spoof-t-shirt-1233221 2. http://www.timemachinego.com/linkmachinego/2007/09/28/crackbook-a-facebook-spoof/ 3. http://fourisland.com/blog/facebook-starts-to-infuriate/ 4. http://imgfave.com/view/283629 5. http://jamesbrett.wordpress.com/2011/04/30/my-wife-did-a-funny-thing/nacho/